Welcome to
Beautiful Smiles by Design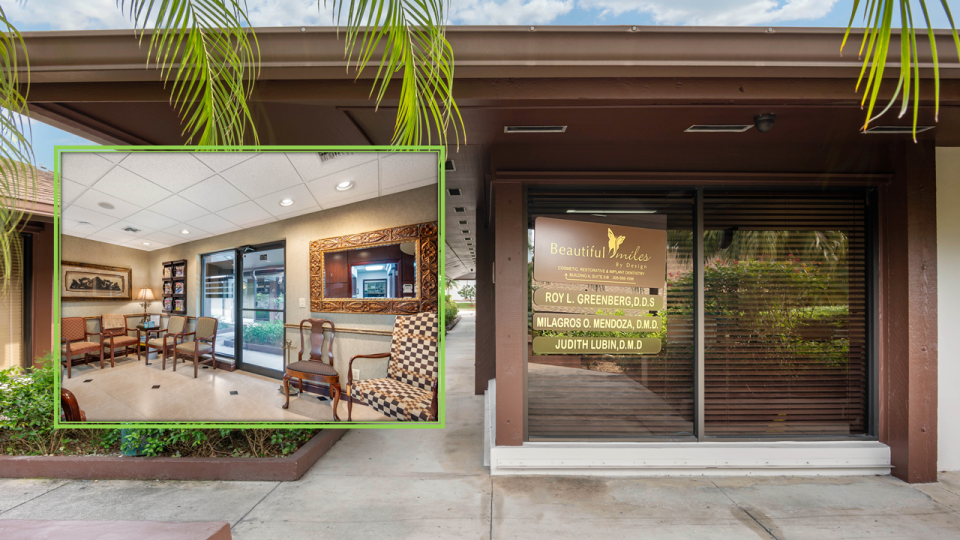 About Us
Welcome to Beautiful Smiles by Design. Your home for expert dental care in Miami, Florida
Looking for expert, careful dentistry near home? Beautiful Smiles by Design provides experienced care in a considerate manner that puts your safety and comfort first. Our specialists can assist you in achieving your healthiest and brightest smile, from regular checkups and cleanings to cutting-edge orthodontic treatment. That's why satisfied patients and their families choose us for all of their dental needs.
We're at SW 87th Ave and SW 92nd St, not far from Baptist Hospital and the Dadeland Mall. We're glad to serve the city of Miami and its neighboring areas, including The Keys and Aventura. You can schedule an appointment by calling 305-595-1556.
What sets Beautiful Smiles by Design apart from the competition?
A welcoming atmosphere
Our clinic was built with you in mind. We understand that going to the dentist isn't on everyone's list of favorite things to do, so we've included soothing features to help you unwind and get the treatment you need while still receiving excellent dental care.
Our friendly staff
Our dentists, hygienists, and technicians collaborate to form a care team at Beautiful Smiles by Design, ensuring that you receive high quality, individualized treatment. Our office support staff will help make the entire scheduling and payment procedure as simple as possible for you.
Full range of services
Dental services that we offer include checkups, emergency dental care, crowns, teeth whitening, and orthodontics. We have the knowledge and experience to assist you in achieving your best possible smile.
The latest technology
Your mouth's health is connected to your total health. That is why we strive to make efficient and painless diagnosis and treatment of dental issues a reality using the latest information and techniques.
Make an appointment today.
At Beautiful Smiles by Design, we would love to show you what makes us different. Call us and let's talk about how we can exceed any dental experience you've ever had. To schedule an appointment, call 305-595-1556.
Featured Services
Cosmetic Dentistry
Cosmetic dental procedures are aimed at improving the appearance of your teeth, gums, and bite and fighting the effects of age and wear that affect even the healthiest teeth. From alignment, shape, or size to whitening and stain removal, our cosmetic dental services can improve the aesthetic quality of your teeth so that your smile looks as good as it feels.
More information
Invisalign
Custom-made to straighten your teeth, Invisalign® clear aligners are nearly invisible. Each aligner is made of a proprietary, multi-layer SmartTrack material, which gently shifts your teeth into place over time, moving them slightly both horizontally and vertically and even rotating them if necessary. The aligners are engineered so that as you change to the next set of aligners (typically every two weeks), your teeth gradually move into their correct position.
More information
Crowns
A crown is a dental cap that completely covers a severely damaged tooth and restores your tooth's appearance and functionality. Crowns come in a variety of materials to suit your particular needs. This restorative dental procedure not only improves your teeth's aesthetic appearance, but also helps prevent bone loss and improves the overall health of your smile.
More information